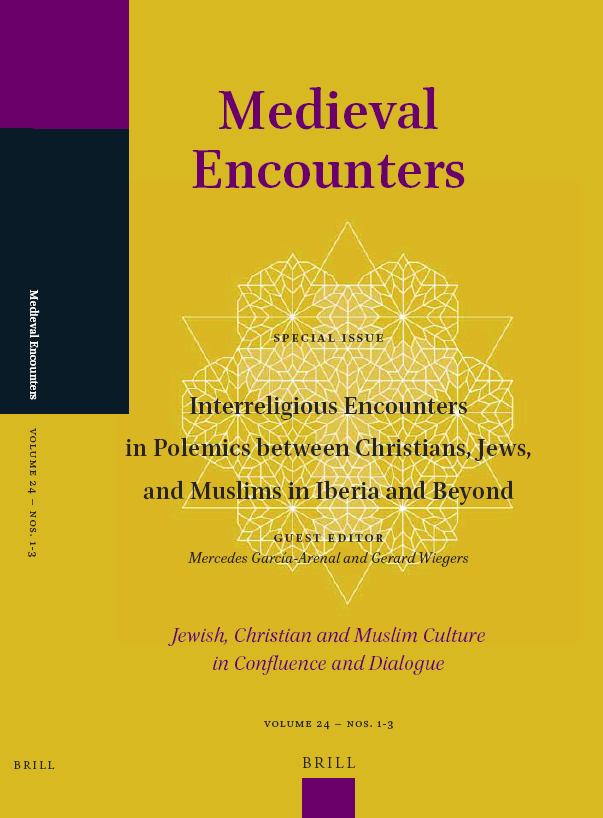 Medieval Encounters 24, nos. 1-3 (2018): monographic issue on "Interreligious Encounters in Polemics between Christians, Jews, and Muslims in Iberia and Beyond."
The articles gathered here were presented as lectures at the conference "Polemical Encounters: Polemics between Christians, Jews, and Muslims in Iberia and Beyond," which took place at the Consejo Superior de Investigaciones Científicas (CSIC) in Madrid in October 2014. This conference was organized by the editors of this volume under the auspices of the European Research Council's Advanced Grant project CORPI.
The contributions included:
John Tolan: "Ne De Fide Presumant Disputare: Legal Regulations of Interreligious Debate and Disputation in the Middle Ages."

Gad Freudenthal: "The Brighter Side of Medieval Christian-Jewish Polemical Encounters: Transfer of Medical Knowledge in the Midi (Twelfth-Fourteenth Centuries)."

Ana Echevarría: "Better Muslim or Jew? The Controversy Around Conversion across Minorities in Fifteenth-Century Castile."

Yonatan Glazer-Eytan: "The Spirit of the Letter: The Hebrew Inscription in Bermejo's Piedat Revisited."

Rosa M. Rodríguez Porto: "Forgotten Witnesses: The Illustrations of Ms Escorial, I.I.3 and the Dispute over the Biblias Romanceadas."

Yosi Yisraeli: "From Christian Polemic to a Jewish-Converso Dialogue."

Eleazar Gutwirth: "The Rabbi and the Mancebo: Arévalo and the Location of Affinities in the Fifteenth Century."

Maria Laura Giordano: "The Virus in the Language: Alonso De Cartagena's Deconstruction of the "Limpieza De Sangre" in Defensorium Unitatis Christianae (1450)."

Katarzyna K. Starczewska: "Apologetic Glosses—Venues for Encounters: Annotations on Abraham in the Latin Translations of the Qurʾān."

Felipe Pereda: "Vox Populi: Carnal Blood, Spiritual Milk, and the Debate Surrounding the Immaculate Conception, ca. 1600."