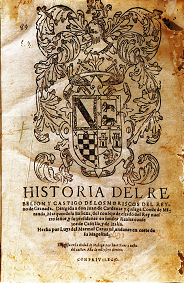 Javier Castillo Fernández published in open access his Doctoral Thesis, at the Universidad de Granada (see here)
La historiografía española del siglo XVI: Luis del Mármol Carvajal y su historia "Del Rebelión y Castigo de los Moriscos del Reino de Granada". Análisis histórico y estudio crítico. Granada, Universidad:2013.
In his book, Javier Castillo makes a scientific review of research on the 16th century - Spanish Historiography in recent decades, and provides a new interpretation of that concept. The author frames the Luis del Mármol's works at the begginings of the Orientalism in Spain, and his relevance and future influence. This Doctoral Thesis includes a significant critical edition, and tables of contents and indices.
The dissertation was directed by Manuel Barrios Aguilera, Universidad de Granada, doctoral programme about "Power,  Hispanic and American Society, 16th –20th centuries".